Ad Type

For Sale
Price

$250
Manufacturer

Other / Not Listed
City

Beaverton
State

Oregon
Zip Code

97007
Top
: Ballistic Advantage 10.5 upper. MLOK handguard. Has 60 rounds thru it. No BCG, no CH. The Emissary Development handbrake will be included.
The Rearden Mfg muzzle brake will NOT be included, it will be taken off prior of sale!

Asking $250 for it

Bottom:
Palmetto State Armory 16" FSP upper. FDE handguards. This is their stripped upper they've been advertising for $150. I added and zeroed a Vortex SPARC AR and a spare parts bin BCG and CH which will come with the upper. 30 rounds thru it. Ready to drop on a lower and have fun.
Asking $160 (smoking deal with the extras)
No trades, my trusty GMC has an engine disaster and is kinda hurting the wallet right now. If you want both, DM me and we can work something out.
FYI: I work graveyard shifts so my sleep schedule is very off. If you DM me, I'll be answering as soon as I'm awake.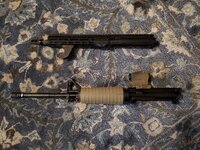 I agree to the classified rules and terms of service