I'm selling this jacket because I don't use it. It is in brand new condition. I bought it on a whim a year ago and have never worn it except to try it on. Frankly, it's a bit heavy for me. I don't ride, so such heavy leather isn't necessary for me. But you could take a tumble and it would probably be pretty protective.
Made by Cockpit USA.
I purchased it new. It still looks new. Come with removable collar. A very nice jacket. Seriously nice leather and craftsmanship.
Cleaning out some closets and my loss is your gain.
I paid $800 for it and there was a 30 day wait to get it.
Size L
First two pics are mine. Last 3 are from the website,, to show more details.
Selling it for $500.
Made in the USA.
Here is the description from Cockpit USA's website.
The Cockpit USA Highway Patrol Motorcycle Jacket is a perfect example of fashion meeting functionality. Spending their career on the road, highway patrolman needed a jacket that protected them from the elements, as well as the hazards of the road. This authentic jacket has been built to last, and stay true to its roots. A Cockpit USA exclusive!
• Crafted from motorcycle grade 4 oz horsehide leather
• Quilted lining
• Removable fur collar, with double snap down
• Two zipper side entry pockets
• Left chest zipper pocket
• Classic D shaped pocket with outer snap pocket
• Two interior pockets
• Adjustable side panels for riding comfort
• Snap button belt loops
• This is a regular fit jacket
• Available in black
• Proudly made in the USA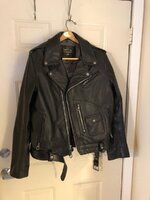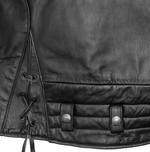 Last Edited: