I wanted to build an AR-10/308 in September 2016, but didn't know enough about the AR-10/308 platform to try to build one. I was still trying to find this lower too, but it was sold out wherever I looked. I thought that I would unable to buy a stripped lower in CA in 2017, but the CA DOJ and the liberal anti-gun politicians didn't see it as a threat. I bought this Aero Precision FDE M5 lower from Schuyler Arms at the end of January.
February was kind of slow, so I had to wait until March to get my first order in. I found B.Kings firearms online- great prices on Aero Precision parts, good service and quick shipping.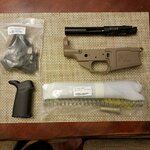 I got bored the other day and decided to put the lower receiver together.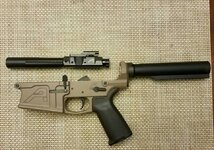 I'm planning to get my next parts order in a week or two.
Geno