Messages

142
Reactions

41
Ad Type

For Sale
Price

$25
City

Troutdale
State

Oregon
I have an Extreme Gift card I got for a return a while back that was over the return policy time. I am no longer in security and have no need of anything from the store. If you don't know what Extreme Products is it's a police outfitter store ran by a local Officer for Officers, Deparetments, and the public. They sell just about everything there. Great people and great service.
I have a $40 gift card that I doubt I will ever use so figured someone on here might have more use of it.
$25 for the $40 gift card. I have no issue with us calling to verify the amount and all that.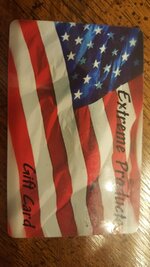 I agree to the classified rules and terms of service