So, my wife had an uncle pass late last year. He, evidently, bequeathed us a Pietta cap'n'ball revolver. The next time the Mrs (
@TeacherSmurf
) sees family, it shall be picked up. Any idea on what this is, exactly?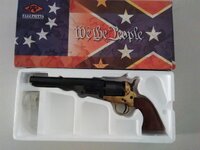 It kind of looks the copy of a Griswold & Gunnison I had back in the late 90s, but had to sell due to hard times.
Anywho, just curious. Once it is in our possession, I can add more pics. Thanks much.