I have a Smith & Wesson 640-1, has some wear marks on cylinder and a couple scratches on the frame. Has a Hogue Monogrip. Fires fine. I picked this up used and I don't care for the recoil. Comes with box and manual.
I also have a Aimpoint CS red dot sight (last sold @ $599). Here's the link to the archived page at Midway USA:
Aimpoint CS Red Dot Sight 26mm Tube 1x 2 MOA Dot with Integrated Picatinny-Style Mount Matte - MidwayUSA
I'd like to trade both of these for a 1911 in .45. I'd prefer a Springfield Mil-Spec or Loaded or Colt New Agent.
I would consider trading the Smith straight up for a Seecamp .32.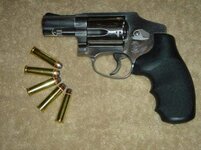 Last Edited: