Messages

11,671
Reactions

23,698
After moving and leaving behind my previous wall safe for the wife's pretties, it was time to invest in another secure storage spot for her valuables.
Previous location was to keep them in the firearm safe on the opposite end of the house and that lead to her not using it and keeping the spend stuff sitting on the counter in the bathroom or in a drawer - I wouldn't leave firearms around like that so she can't do that with her expensive....
I browsed the local Amazon and searched Google for wall safes. While the models I wanted were fireproof, she wasn't ready to drop 3-400 on a wall safe.
Learning from past experiences with wall safes, I make sure to get one that used an electronic key pad or key. The first save I purchased required a combo + key to open. Yeah that was a PITA.
So we settled on this model:
Paragon 7750
Initial review:
Not as heavy as the first one I bought at the old house.
Really thick front plate and door.
6 lag bolt holes vs some models using 4.
Where does the key go? Oh... must remove the faceplate with a screw to insert the key. Not made for every day key use, made for battery dead use.
Key press tone is loud.
Door has a spring to assist opening and it really helps because there is nothing much to grip to open the door.
3 shelves... kinda cheap but not made to hold much weight anyway.
Downsides:
Key press is loud
14.125" wide between studs. My studs were 14.125" and had to use a dead blow to make it fit.
Not fireproof - doesn't claim to be though
Key access is hidden. Would have preferred a model with easily accessible key slot. Could remedy with drilling a hole in cover.
Not a super secure safe but enough to keep sticky fingers from taking an easy swipe and walking off.
Took me all of 30 minutes to install. Ordering a set of hooks for the top for the necklaces and for extra rings etc.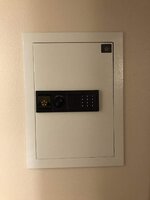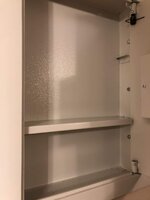 Key location right behind this spot!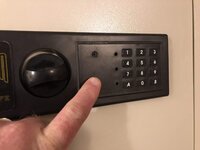 Would I buy again? Probably. At $75 it was hard to turn down for a lockbox.
I think I'll disable the speaker or mute it down with some superglue.