Ad Type

For Sale
For Trade
Price

$450
Manufacturer

B&T
City

Gresham
State

Oregon
Zip Code

97080
I'm selling my B&T stock for a full size MP5 or clone. This will NOT fit a K model unless you have a reverse stretch. It's a great option if you want a short overall package the stock has absolutely no wobble except when fully collapsed. I hardly use it and want more parts so I'm selling.
$450 cash only.
I don't ship so meetup in Gresham is preferable.
Please be aware that you'll need to bribe our overlords with $200 to legally put this on your toy. Save your dog bribe the government.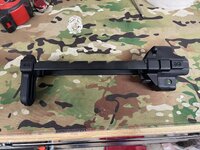 I agree to the classified rules and terms of service
Last Edited: