Ad Type

For Sale
Price

$625
Manufacturer

Other / Not Listed
Caliber

Other / Not Listed
City

Potland
State

Oregon
Zip Code

97221
Hello All,
Selling a really nice minty WW2 Tula 1943 Nagant revolver and ammo(2 Russian original military issue 14rd boxes and 50rds of Hotshot, 78rds total). Cool old gun, originally made in 1943 during during some of the fiercest fighting beween Russian and Germany of WW2. Shoots well, little recoil. Bore is great. Chambered in 7.62 Nagant.
Cash only. Price is OBO. However excessive lowballers will be ignored and maybe blocked.
No shipping.
If interested or have questions send a PM!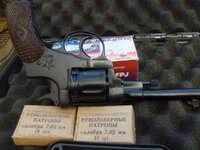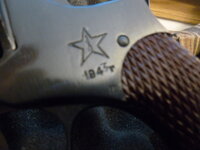 I agree to the classified rules and terms of service