SPF
Came across a grail gun, which is the only reason I'm getting rid of this one. The ultimate no nonsense working gun that still keeps a pretty classic look.
Nowlin barreled Springfield Pro, 3-digit S/N, certificate of authenticity, Springfield custom shop hardcase and one new tuned magazine from SACS.
Gorgeous shape. Nightsights are dull but Springfield replaces them for free on the Pros. They also guarantee the accuracy of these pistols for 50,000 rounds.
$2400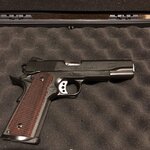 Last Edited: