Ad Type

For Sale
Price

$2200
Manufacturer

Daniel Defense
Caliber

5.56x45mm NATO
City

Portland
State

Oregon
Zip Code

97215
Beautiful Lightweight DDM4. Purchased new a few years ago, set up optimally and put in the safe, I've got ~$3k in this gun. Has had less than 20 rounds through it. Everything is like new.
DDM4 v11 with hardcase. 5.56/224
Aimpoint Micro T2 2MOA red dot sight on LaRue Tactical M4 QD Mount
Troy HK style folding sights
Vickers BlueForce Combat Sling (one hand quick adjustment) with QD Swivels
3 Magpul PMAG 30 GenM3 window + 1 PMAG30 Gen2
1000 rnds PPU fmj 5.56
Package deal - $2200 takes it all.
No Trades. Greg.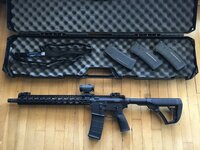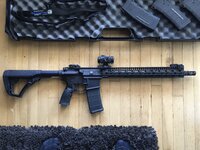 I agree to the classified rules and terms of service