ITEM IS SOLD:
Thank you for your interest.
For sale is my minty condition 1943 1911A1 Remington Rand for just 1095.00
According to Charles Clawson's Book, It is all correct and retains 95% of its original finish.
correct blackstrap stipling, hammer stipling, crossed cannon stamp on frame, FJA stamp, "P" proof mark on top of the slide, and correct H&R Barrel.
There are no stampings that indicate that it has ever been re-arsenaled, and no import markings.
This is way better than the CMP ones selling for way more.
(Note: The Clawson's Book does not come with the pistol and is only used as a reference)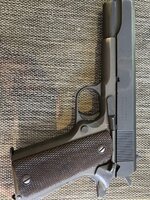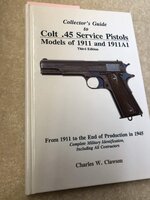 if interested or you have any questions, please text or call 360-seven-two-one, seven -3-8-5.
thank You.
More photos available upon request....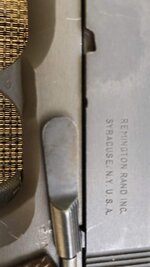 Last Edited: