Messages

457
Reactions

200
SOLD!
Price Reduced! Cash price $725.00, trades listed below.
NIB (never fired outside of factory).
This is the performance center model 686 with a 5" barrel, 7 round capacity, cut for moon clips and the awesome speed cylinder release feature (SKU 11760). Comes with the original box, moonclips, paperwork, and everything else this gun comes with new.
Bought this gun new about two months ago brand new and I never fired it.
This is a beautiful gun with an incredibly smooth DA trigger, and an unreal SA trigger.
EXTRAS:
To make this sweet deal even sweeter: I'll throw in a nice sheepskin (or suede?) handgun case, as well as a 6 shot speed loader (pictured below) .
NOTE: This is a SIX shot speed loader, so it WILL NOT work with this particular revolver (which is a 7 shot and cut for moonclips). It IS compatible with any S&W 686, any Ruger GP100, and probably several other types of 6 shot revolvers.
Looking to trade for one of the following:
CZ Shadow 2 (+ cash from me, depending on condition)
CZ sp01 (+cash from you)
CZ 75b (+cash from you)
...basically I'll consider any steel framed CZ 9mm .
View attachment 528928
View attachment 528929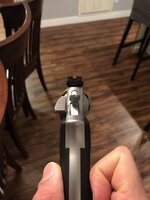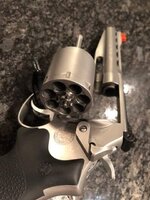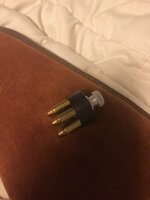 Last Edited: