Ad Type

For Sale
Price

$400
Manufacturer

Other / Not Listed
Caliber

7.62x54R
City

Portland
State

Oregon
Zip Code

97219
As pointed out by the fine gentleman in the comments below, it turns out that this is (was at this point) an ex sniper. Truly a shame.
1943 Izzy
C.A.I. stamp
There's weird markings all over this thing. Looks like half struck stamps. Not sure.
Previous owner put the archangel stock on it and I don't have an original stock.
Comes with one magazine. It's the bigger one. (8 rounds I think? Can't remember)
Previous owner also chopped the barrel shorter. Still legal but they never re-crowned it. I have the tool to do it just never got around to it. I can throw it in for free if you feel like doing it.
Bolt works silky smooth. I completely disassembled the bolt and threw it in the ultrasonic and then relubed it generously.
Barrel is filthy, I spent an hour scrubbing it and it's still dirty. The rifling is there, hard to tell how good it is without cleaning it the rest of the way.
It's a mosin, whaddya really expect? They made millions of these. It shoots just fine, I just never really take it out anymore. Rather use the ammo in my PSL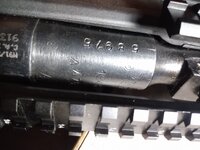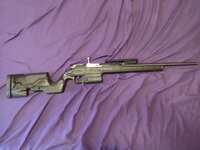 I agree to the classified rules and terms of service
Last Edited: