SOLD SOLD SOLD SOLD




LWRC M6A2 16" Piston AR15
WTS for
$1,300.00
w Geissele, sights and 2 new mags.
WTS for
$1,100.00
w/o the Geissele SSA-E trigger.
WTS for
$1,000.00
w/o the Geissele trigger, w/o the sights and with no mags (optic ready and stock trigger).
I paid $2,200.00 new at Rainier Arms. Market sucks right now for resell so its time for a bath on this awesome shooter.
I am the original owner and estimate sub 1K rounds fired. I will include 2 new black Magpul window mags.
I honestly can't tell you all the specs and features in detail. It's a great shooter and comes with a new/never used Geissele SSA-E trigger. The original trigger is included as well.
The sling plate is by "I kick hippies". I may still have the original part.
16" barrel.
AAC 51T Flash Hider is attached. Original is included.
Magpul BAD lever installed.
Original LWRC Skirmish sights included.
Local sale only please. No shipping. I am located in Western Washington between Everett and Lynnwood.
More pics on request.
Transfer at Precise Shooter in Lynnwood (or alt location). I will pay the transfer fee.
Please ping me with any questions and thanks for looking.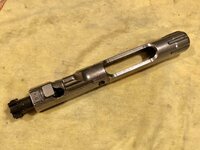 Last Edited: