Ad Type

For Sale
For Trade
Price

$1500
Manufacturer

Hornady
Caliber

Other / Not Listed
City

Hillsboro
State

Oregon
Zip Code

97123
looking to rehome this workhorse with many high quality upgrades and get someone everything they could need to start pumping out their own ammo same day.
In-line fabrication led sky light AND light strip, strong mount and roller handle, along with the 4 die holder for the rear of the press.
The following shell plates; 556/300blk/380, 9x19, 308/30.06, .40/10mm and 45acp.
Hornady 5.56 swaging dies and plate
7 quick change powder measures to set and forget for quick changing
35+ Lock n load bushings
TWO powder drops- one I used for pistol and one for rifle. Each have upgraded PYREX powder hopper with o-ringed aluminum caps and 30% additional volume from factory plastic hoppers.
6 Factory primer pick ups 3 large, 3 small
HEAPS of replacement parts, shell plate springs, primer plungers and shuttles along with every factory part but the handle.
Also included are some 3D designed and printed goodies

I've made a multiple caliber case feeder, a .224 caliber 6 tube, revolving bullet feeder and a 6 tube .355-.357 revolving bullet feeder.
Caliber labeled die holders are included. They are designed to hold dies with the LNL bushings and hold a shell plate on the side. They are wall mountable and for the Inline fabrication wall rail foot print.

No dies are included.
I can send a video of the case and bullet feeder operating for serious inquirers.
Several 3d printed output bins are available as well.
$1500
15k primers small rifle/pistol of recent domestic manufacture.
No I don't want your budget AR, factory Glock or grandpa's .270
No I don't want to part it out. If you message me about parting out, I'll assume you didn't read the ad and thus won't give you the satisfaction of a response.
Brandon
9514426918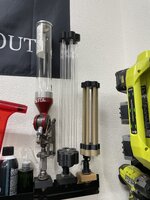 I agree to the classified rules and terms of service
Last Edited: