I have three ar-15's I'd like to trade For? A nice Daniel defense ar-15 or ar-10? I'm open to offers. Here the specs on each rifle.
TROS (The Riddle of Steel) (rare) keyhole forge lower, started life out as an other, so it can be pistol/rifle, whenever, they are a local manufacturer who mainly does class III stuff
Upper is a square foundry T marked upper. Aero Precision I believe.
11.5" .223 Wylde Hbar, with standard birdcage flash hider.
All oversize Punisher logo take down and mag release.
Odin works QD end plate, and pistol brace position holder.
KNS anti-rotation kit.
IMI poly back up irons, holo site. Which holds zero pretty well.
Punisher logo charging handle
tear drop Forward assist.
Fail Zero nickel boran full auto bolt carrier, and bolt.
Sight Mark green laser/flash light combo. Pressure switch installed with heavy duty outdoor velcro.
Magpul extended trigger guard.
Magpul MS3 single point QR sling.
GT Free float hand guard.
Odin Works low profile gas block.
Magpul Moe grip.
DPMS lower parts kit.
Gun has around 500 rounds through it. Most likely less. Always maintained.
Spikes spider lower m4 profile 13" free float 556 1/9 twist DD fa bolt carrier with irons only single point magpul end plate grip and butt stock
Anderson ar15 receiver set and barrel, and a mix of other mil spec parts
Got most of the parts from primary arms
Carbine gas, 1/8 twist barrel.
It's a solid platform. Not rattles,nice snug receiver match up. Cycles smooth.
Mainly looking for a nice Ar-10. I am open to trades and cash offers. $2500.00 obo Let me know what you have. Text 785 209 1593 or message here is fine.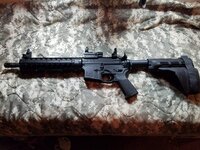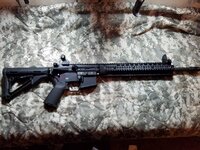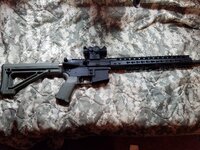 Last Edited: