Ad Type

For Sale
For Trade
Price

$30
Manufacturer

Other / Not Listed
City

Sandy
State

Oregon
Zip Code

97055
I've got some old school m3x tactical illuminator halogen lights. 1913 rail compatibility. I think I have 5 of these. The thought is sell all 5 for one new LED pistol light. $30/ light. They are all in good shape, have a focused beam or flood beam that is easily adjustable, and if memory serves, are somewhere around 150 lumens.
If anyone is interested, I have a box of replacement parts for these lights. Parts box is $75.
If you are crazy enough, I'd trade all the lights and parts for one, just one, surefire x300u-b.
Will ship on your dime.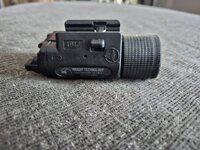 I agree to the classified rules and terms of service