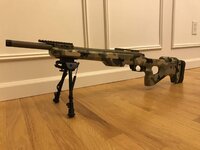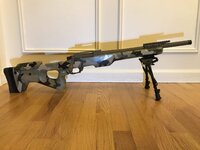 *** Will ship FFL to FFL
This rifle is a brand new, unfired Remington 700 that has been customized by a well known gunsmith. The following work was done: Remington 700 short action 308 Trued and blueprinted, side bolt release installed, 5R stainless steel barrel has been cut to 18 inches and threaded 5/8X24 making it an excellent host for a suppressor. Also comes with thread protector. All metal has been Cerakoated and FDE and blends nicely with the stock camo.
The trigger is a Timney Calvin Elite two stage curved bow Trigger.
The barreled action was professionally glass bet it to a KMW Sentinel stock in desert camo pattern with KMW bottom metal that accepts AICS pattern magazines. Also, picatinny rail installed on bottom For bipod attachment.
Again, this is a custom Percision rifle and it is on fired.
Asking $3250 obo. I prefer cash but may entertain trades. Trade interests would be a high-end tactical scope with MOA adjustments or a knights armament SR 15+ cash or extras.
Last Edited: