Ad Type

For Sale
Price

$50
Manufacturer

Winchester
Caliber

45 ACP
City

Oregon City
State

Oregon
Zip Code

97045
50 round box of Winchester
45 +P 230 gr Ranger SXT
Law Enforcement Ammo.
It's the new version of the
Black Talon Rounds similar to what is shown in the photos.
The example image is of a black Talon that was fired into (top down) a 55 gal barrel of water to show expansion.
This is some of, in my opinion, the finest self defense ammo made for the 45 ACP.
I paid 49.99 back before all the shortages about 15 yrs ago. I need to raise $70 For some meds for wife or would not be selling these.
They changed these to the Ranger SXT due to bad press. For all intents the same round. Excellent Ammo Impossible to find now. It's with great pain that I must sell these.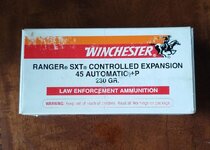 I agree to the classified rules and terms of service