Ad Type

For Sale
For Trade
Manufacturer

Other / Not Listed
Caliber

357 Magnum
City

Gresham
State

Oregon
Zip Code

97080
I am no longer reloading for .357 magnum and .38 special. These are the reloading supplies and dies that I no longer need. I am interested in trading for the reloading supplies listed below or selling for cash.
What I have:
357/38 bullets - measured by weight (might be slightly less due to weight of container):
$60 for all of them
94 Speer jacketed soft point 158 grain $16
152 Berry's plated round nose 158 grain $24
113 unknown brand jacketed hollow point 158 grain $19
98 Wenches jacketed hollow point 158 grain $17
357 mag brass: $125 -
TRADED
517 cleaned fired twice
475 not cleaned fired twice
15 not cleaned fired once
38 special brass: $80 -
TRADED
1002 cleaned fired once
227 not cleaned fired twice
Two sets of RCBS .357 carbide dies, each with RCBS shell holder #6
$45 each set or $90 for both
What I want (in order from most desired to least desired):
9mm bullets
9mm brass
Win 231 powder
30-06 brass
30-06 bullets 150grn soft points
Trades are face to face in Gresham.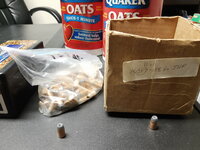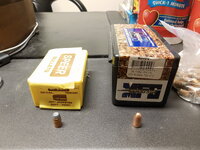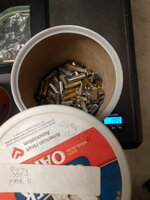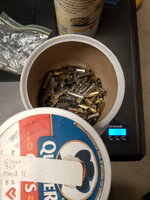 I agree to the classified rules and terms of service
Last Edited: