Messages

591
Reactions

35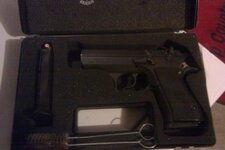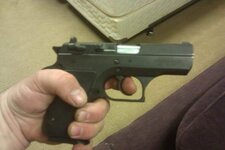 I KNOW I KNOW... Just pretend you were there when I cleared it 3x before putting. my finger on the stick yessir
So.... What I have:
IMI Steel frame baby Eagle compact in .40sw. Wonderful gun. Not 1 issue. Reliable, VERY manageable recoil as well... I think the steel frame helps with that. Its not real heavy though
It has the polygonal rifling and is very accurate and consistent
Comes with
: 2 10 Rd and 1 12 Rd extended mag in the original box with cleaning brushes. Gun is in very good shape and shoots FLAWLESSLY, It has never FTFed anything in the 1000 Rds ive put down it except 1 Reload. Ive shot Winchester, Federal ranger, Speer Gold dot, Hydrashock and Frangables with not 1 issue. Feed ramp has been polished always cleaned and oiled regularly... It is very clean with some normal wear form carry. Also have made a regular practice of wipedowns with Silicone cloth due to the nature of the steel frame.
What I want: Either M&P .40 compact, or XD .40 compact, subcompact.
Not really interested in anything else, as If I cant get either one Id rather keep this pistol. I like it very much, but have always wanted one of the mentioned pistols.
More Interested in trades but at his time. .40 only. If I had to put a price on it I guess say 500 for everything as I ve been offered that, also as there are a couple xd40SCs on here for sale for that and I could just buy one from ASHEN since he lives only a few minutes away:O)
FTF in WA Just have valid CPL... I dont need to know your life story. (Lynnwood area)
http://www.gunblast.com/RKCampbell_BabyDesertEagle.htm
Let me know if ya have any questions.
THANKS GUYS