I'm getting rid of my XD357Sig.
This one has standard sights and 2 10rnd mags.
It has shot about 5-600 rounds.
I'd like to get $425.
For $440 I'll throw in the rest of the ammo I have for it.
10 rnds of Ranger SXT 125gr, 30 Fiocchi 124gr fmj, and 15 Winchesters fmjs.
I'd consider trading for an 870 w/rifle sights, Micro Eagle, Glock 27/33/39,32,35,20/29(sf)
Taurus Slim 9mm, Taurus Titanium Pistols(almost any model), Kel-Tec PF9(+$), Bond Arms(+$), Kahr 40 or 9, Charter Arms Lefty 38, M&P 40/9 sub/compact,
357Sig was designed to match 357Mag power from a semi-auto.
They did it by necking down a 40S&W to a 9mm bullet.
By swapping barrels, you could shoot 40(and 9 as well, I think).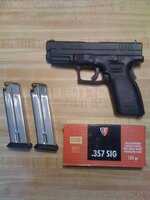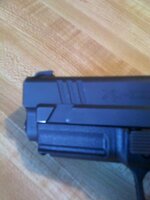 Last Edited: