So, after years of searching, we finally acquired the wife a Margolin pattern pistol, in the form of a Chinese PS01:
(First time she shot it was not far off the back porch. Me keeping two potato heads safely wrangled and her letting fly at an old plastic flower planter that was on the way out. Perhaps not exactly evocative of royalty, but I jest because of her favorite character wielding one in space opera.

)
Jokes aside, alas, that designation produces a bajillion false positives whilst googling said. Therefore, the questions:
Number One: The Threaded Barrel
I've read, and it does appear to be so, that this variant is threaded. Inquiries:
Is this so?
Anyone know what thread pitch?
How does one remove the thread protector without doing damage? I've tried so with just fingers and couldn't get it off. I hesitate taking tools to it until I know more.
It would be good to know in general, but we'd both love to put a small silencer on this one.
Number Two: Magazines
It looks to me that they are nearly identical to the Russian, 10-round type: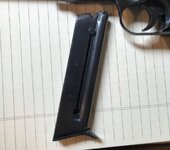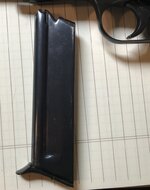 But, who knows? I ordered a spare from SARCO with the idea trying it; works, great, keep and maybe buy another. Not, send back for the refund. Though they took my order, I received an email about a week later saying sold out. Curses.
I do see them pop up on eBay from time to time, but I don't know if they are compatible or not.
Anyone know the answers?
Thanks!