Ad Type

For Trade
Manufacturer

Other / Not Listed
Caliber

45 ACP
City

Beaverton
State

Oregon
Zip Code

97005
TRADED
"45 automatic with laser sighting" Yes this is that same .45 ACP 1911 from Terminator(1984). I've wanted one for years, couldn't believe my eyes when I saw it in person just had to have it. What makes this one special is the rarity and the longer than barrel length and sight radius.(7 inch barrel, standard 1911 has 5 inch barrel)
Cool guns, but at least mine, will not feed JHP by Hornady(XTP) or S&B JHP. That said this is a gun intended purely for range use and it excels at that. Tightest groups I've ever shot from a semi-auto pistol were done with this pistol.
I have done some customization: Ed Brown Chainlink Mainspring Housing, Wilson Extended Slide release,Valkyrie Dynamics Punisher Muzzle Brake, and extended thumb safety. Don't worry the original AMT parts I kept are pictured in the little clear container in the photo and are included should the trader wish to restore it to original look/condition. The uncle mikes shoulder holster is also included. Comes with 3 8 round magazines.
Trade interests:
Beretta 96 in .40
Beretta PX4 .40
CZ pistol in .40 or .45
H&K USP 40, USP 45
H&K USP Compact 40 or 45
H&K P2000 .40 or P2000SK .40
Sig Sauer Pistols in .40, .357 sig, or .45
FN pistols in .40 or 45
Glocks in .40 S&W,.357 sig, .45 GAP or 10mm(haven't tried a Glock in these calibers yet)
Ruger Mark IV 10"
Pistols of any size in .40 S&W, .357 sig, 38 super, .380 acp,9mm Makarov, 7.62x25 tokarev, and open to other less common calibers.
Revolvers in .41 mag,..455 Webley,.44 mag, .45 Colt/.45 Long Colt, .45 ACP or other big bore revolver calibers.
Conceal carry pistols(no 9mm's please unless, 9mm makarov ,or 9x18 police/ultra)
Walther PPK/s or PPK preferably the newer type with improved feed ramp
Lever Action Rifles in .41 mag, .44 mag, .45 colt/long colt or .45-70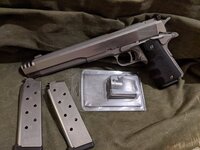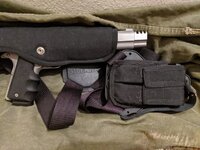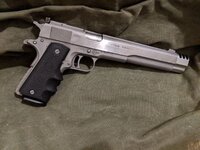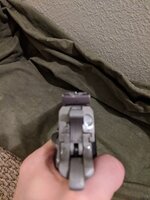 I agree to the classified rules and terms of service
Last Edited: