Ad Type

For Sale
Price

$350
Manufacturer

Zastava
Caliber

9mm
City

Oregon City
State

Oregon
Zip Code

97045
I bought 2, one for me and one for my brother but he found something he liked more. So I am selling one.
*Update* I bought 2 and I have since purchased something else I wanted so now both are for sale. If you want a pair of these as a cheap package deal send me a PM. The other one is in slightly better shape.
This gun has ALOT of holster and handling wear but the internals are very clean. I detail stripped the gun and cleaned the cosmoline off every screw, pin and spring and now the gun is very smooth. I have not fired either yet but the action is nice! The Ambi lever on both sides of the grip lock the slide open, drop the slide AND de-cock the hammer all in one lever. The magazine release also works from both sides, no swapping it over to make it lefty.
New factory Zastava magazines are available as are all the small parts for this gun since Zastava still makes this, now known as the Zastava EZ9. The magazines from a Beretta 92FS work in this gun if you cut a new magazine catch in the mag (google it and you will find many youtube tutorials). These mags are $15 for new in the wrap military surplus and you just cut the catch. also my gunsmith and I measured and Sig P226/228/229 sights will fit and #8/#8 are the correct height so you can put Trijicon night sights if you want.
Asking $350 Firm for a quick sale, comes in a plain cardboard box and only 1 15 shot magazine.
*Update* I have 4 brand new Beretta M9 mags showing up this week, I am positive that I will be able to modify them to work with this gun so by this weekend the gun will now include 3 15-shot mags.

Asking $350 OBO for the gun pictured with 3 15-shot mags, or $600 for both pistols with a total of 6 15-shot mags.
Some info:
The Zastava CZ 99 is a semi-automatic pistol produced by Zastava Arms. It was developed in 1989 to replace the M57 in the Yugoslavian Military and Police.
Design of the CZ 99 was based on SIG Sauer P226, while frame design was influenced by the Walther P88 with some ambidextrous controls (slide release / decocker / magazine release), and Browning cam-lock system adapted from the Hi-Power pistol. However, the CZ 99 is not a copy of either, but rather borrows from all designs. frame is made out of PD 33 aluminum alloy while the slide is machined out of hammer forged steel.chambered in 9×19mm Parabellum / Luger with a 15-round magazine.
Fun Facts:
The hammer-forged hard-chromed barrel is made from the same material used in the Zastava M84 General-purpose machine gun. In the tests done in the USA in 1991/1992 it was found that it dissipated heat rather well. While this is not a concern with handguns nearly as much as it is with the machine guns, the ability to dissipate heat rapidly makes barrel capable of lasting longer due to a shorther expansion/contraction cycle. Barrel is hard-chromed (inside and out) to protect from corrosion and wear of corrosive service ammunition used by Yugoslavian Military and Police
This firearm was supposed to be named CZ 89 (Crvena Zastava 1989) but prototype displayed during 1990 S.H.O.T. was mistakenly engraved "CZ 99" instead of the "CZ 89" It had never been completely clarified whether the engraver had mistakenly engraved "99" instead of "89" or if the work order had an error in it but either way, new gun was going to be known as the CZ 99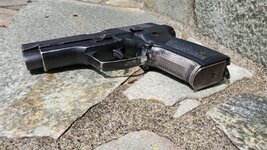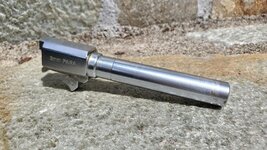 This is NOT rust, this is cosmoline I forgot to clean off.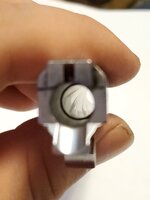 I agree to the classified rules and terms of service
Last Edited: