Picked up another 11 cases today (12 cans each, total 132). $31-32 bucks or about. Happy Valley GO
Asked the lady if there are more and she said absolutely and shelves will be restocked tomorrow. She knew all about the 4 for .97cent price because I guy came in and bought a haul before me and said he heard about it on a FireArms Forum. Gee. I wonder which one?
Not being a greedy pig an older lady asked if all of that was really only $32. Said YES and I left two there so she bailed in line to go get those.
Same ones are $31 a case on Amazon. So $341 vs $31.
GO Happy Valley
Phone
:
(503) 855-3534
But she said all locations stock the same.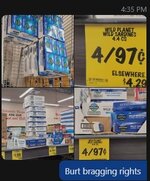 Last Edited: