Messages

11,671
Reactions

23,699
Hey Trlsmn: why don't we go back and forth in this thread?
Here's my opener:
Tonight we served up a very lovely dinner.
Carne Asada cooked on grill with pineapple teriyaki sauce: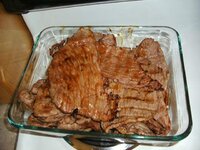 Some beef chuck boneless with a nice rub:
Cooked some veggies in my cast iron skillet on the side burner of the grill with some butter and seasonings:
Simple white rice to compliment the rest of the meal, not too fancy not too plain.. just right.
Final product: (I decided to have chuck instead of the asada.. my wife loves the asada with the teriyaki sauce)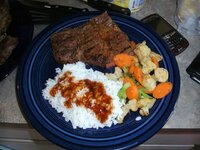 The famous blackberry in the shot.. does that make me addicted?