Ad Type

For Sale
Price

$600
Manufacturer

Glock
Caliber

40 S&W
City

Kent
State

Washington
Gen 3 Glock 23 with rounded trigger guard and reduced finger grooves. Slide, OEM barrel, pins, extractor, extended slide stop lever, and extended slide lock all hard satin chromed by Virgil Tripp before he got out of the plating biz to focus on his mag and pistol builds. It's been in and out of holsters for years and the plating looks as good now as it did on day 1.
Comes with the following goodies:
Extended mag release
Trijicon sights
Silver slide cover plate
Titanium safety plunger
Frame plug insert.
Tungsten guide rod
Wolff spring
Ghost 3.5# connector
KKM Stainless barrel
Smooth trigger
Hand polished trigger components
OEM barrel
Original Tupperware case + mag loader
And lots o' magazines. 10 FML 10-round mags and 6 FML 13-round mags with white markings (5 with Pearce +0 grip extensions).
This gun is ultra-reliable.
$600 buyer pays transfer. No trades. Willing to meet within an hour of Kent or will ship on your dime to the FFL of your choice.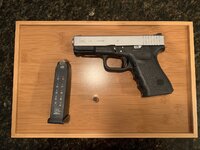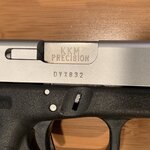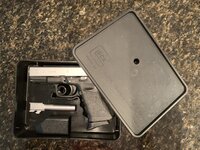 I agree to the classified rules and terms of service
Last Edited: