Edit: Fixed, no further need for help.
I messed up and am looking for some help please.
I watched a youtube video like this to help swap out a tikka bolt handle;
I've got my old handle separated from bolt. Had trouble getting the new one on. In the process, my wrench came out of the firing pin slot that was holding the pin from compressing forward.
Now i can't get my handle aligned proper because the pin is forward. I can't back the pin out... because there's no handle. Any ideas how to fix? Should I just clamp and pull the firing pin back out a bit to get it aligned to recieve handle?
The third picture shows my girlfriends tikka bolt without the firing pin forward. How do I get the firing pin in an open position when I can't get it back into rifle and racked?
Thanks in advance.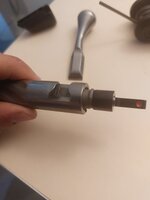 Last Edited: