Hello everyone. I just recieved the Taurus as part of a multi gun trade. I really have no use for it so I would like to trade it. It is the two tone, it comes with three mags and box. I am no gunsmith but it looks to be in decent condition to me. Not fired much, just carried.
I am looking only to trade this gun so there is no cash price. I am looking mainly for a full size pistol in these calibers in order.
.357/.38
.45acp
9mm
Taurus judge
.22
Or a rifle
Sks or something in 7.62x39
High point 995
I am open and will enetertain any and all offers so hit me up and let me know what you got. Thank you for looking.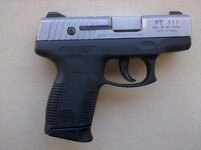 Last Edited: