Wanted Ad Type

Want to Trade For
Manufacturer

Uberti
Caliber

44 Magnum
City

Portland
State

Oregon
I'm looking for a SxS shotgun to shoot cowboy. I have a nice older Uberti American Arms 1873 SAA in .44. I have the box too.
Nice Color case hardening, and the thing locks up tight. I was going to shoot .44 special handloads that would shoot like a .22, but am sticking with Super Blackhawks.
I'm also looking for a lever gun besides Rossi or a Winchester '97 scatter gun.
Cheers!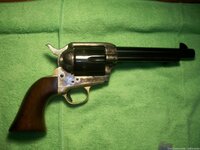 I agree to the classified rules and terms of service