Up for trade is my Hk USP compact 40. The gun comes with 2 10 round mags, a Bianchi IWB holster and a gun rug. No box. I have no idea on the round count as I am not the original owner. When I aquired the gun, it appeared someone had attempted to polish the slide. It looked a little rough, so I had it bead blasted this week. It now has a nice matte stainless finish that looks really nice. I put about 150 flawless rounds through it earlier this week.
I am only looking to trade the gun because I would prefer a full size USP in 40 or 45. Also would consider an XD/XDM in 40 or 45.
Cash price is $575.00 firm.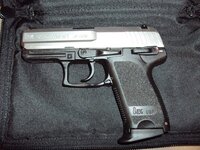 Thanks for looking.
Tom