---Sold---
I would like to trade my Ruger LCP (prefix 372) for a Walther P22
It comes with 2 mags and everything that comes in the box. It also has a little cheap holster.
I am in Everett. I want a P22 but feel free to make me other offers. I do not have alot of cash to add towards something.
I would rather trade it than sell it for cash. But cash can always buy me another gun...
I do not know round count. I know I put 94 down the pipe today without a hiccup.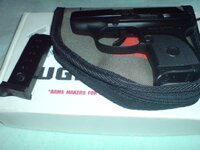 Last Edited: