Ad Type

For Sale
Price

$1000
Manufacturer

Browning
Caliber

243 Winchester
City

Tualatin
State

Oregon
Zip Code

97062
Browning X-Bolt Micro Midas Bolt Action, Left Hand .243 Win, NEW - NEVER FIRED
Includes;
- Burris 3-9x40 C4 Plus Scope*
- Browning leather sling
- Case
-Ammo, 4 boxes, Hornady American Whitetail 100 grain BTSP Interlock
Price: $1,350
*Includes Cartridge Calibrated Custom Clicker custom elevation turret knob and WindMap for C4 Plus scope, calibrated for Hornady American Whitetail 100 grain BTSP Interlock. Additional custom elevation turret knobs for other specific ammo can be ordered from Burris. Also, includes standard non-caliber/round-specific elevation turret knob.
Expandable stock includes 3 spacers to expand incrementally up to 3/4 inch from the standard 12 1/2 inches length of pull to a max 13 1/4 inches length of pull. For comparison the Browning X-Bolt Hunter model has a 13 5/8 inches length of pull.
A beautiful rifle and a great deal for a short-statured or young and growing left-handed hunter, or for someone who simply prefers a shorter length of pull. Only weighs 6 pounds!
Everything you need for hunting season.
Tigard Pawn 4 Less for transfer. You pay fee.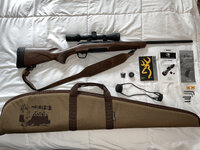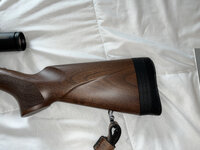 I agree to the classified rules and terms of service