New never worn (out of the garage) Just fitted.
Spec Ops Over-Armor Spec.-Ops. Brand Vest:
•INCREASES CARGO CAPACITY- Wrap-around design provides additional space for gear attachment - 50% more mounting area than conventional systems.
• BETTER LOAD DISTRIBUTION - Additional mounting space allows operator to better balance the load.
•EASY-ON, EASY-OFF- Fits over standard Body Armor systems - slip on, zip-up and go. Remove the load when you don't need it while still retaining your ballistic protection.
•COLOR-CORRECT- Get the camo pattern that best matches your combat environment/uniform. (ACU)
•MODULAR - Numerous GRID-LOK loops allow operator to fully customize components for mission
•specific needs.
•FULLY ADJUSTABLE - 4 simple adjustment points allow vest to fit over all existing US Military Body Armor systems.
• WEAPONS MOUNTING POINTS - welded D-rings for secure & instant weapons attachment/access (designed specifically for SPEC-OPS Brand WOLF-HOOK weapons lanyard - page 24).
•DURABLE- 1000 D. Cordura fabric, High Tenacity Nylon thread and webbing and massive YKK # 10 "Self-healing" coil zipper makes for a rock-solid load-bearing platform. Redundant stitching and bar-tack reinforcements for extra durability.
•Large hook-and-loop frontal panels to accommodate name rank and insignia.
•OVER-ARMOR SPEC.-OPS. Brand vest fits waist size up to 54"
•OVER-ARMOR SPEC.-OPS. Brand vest with the addition of Extender Panels fits waist size up to 70".
•Backed by Spec.-Ops. Brand's unique lifetime guarantee.
65$ shipped USPS Money Order
<broken link removed>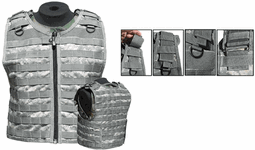 PM or E-mail with questions.
[email protected]