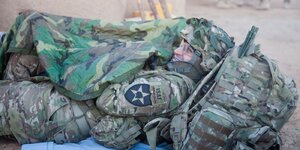 First issued to American troops in the Vietnam era, the "liner, wet weather, poncho," or "poncho liner," or (later informally dubbed) the "woobie," it has been beloved by the American military ever since as "the best piece of equipment the Army ever issued". It's the soldier's security blanket — his baby blankie— sometimes literally, because they have always had a way of not being returned and finding their way into soldier's homes after their deployment was over. Kids and wives would then claim it as their own. Ask a soldier about his woobie and watch him get sentimental before your eyes.
Even dogs dig them...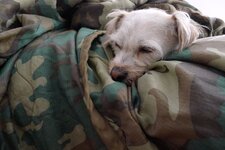 Nothing more than two layers of nylon over a polyester filling it is, by virtue of some mysterious secret black magic made in a way that is durable, light, and compact, and that also keeps you much warmer than you would think judging just by its flimsiness. A heavy wool barracks blanket this most definitely is not. Of course, it's even warmer if your battle buddy is sharing it with you snuggled up to you in a high altitude cold night spoon-fest. (A word of advice earned from personal experience: pick a buddy that doesn't snore.)
Its main advantage is that it is much lighter and more compact than a sleeping bag. It can fit in a patrol pack or bug-out-bag if you need to "travel light freeze at night". Except your wobble will do its job and keep you from literally freezing unless it gets very cold indeed. I've used them in temperatures as low as the high-thirties Fahrenheit and I did not get cold. I should say, though, that I'm freakishly warm blooded and I will be that guy in a T-shirt running around on a frosty cold day (at least for a while) when everyone else is turning blue: so your mileage may vary. Conventional wisdom is that its serviceable down about forty degrees Fahrenheit and any colder than that you'll need a sleeping bag. Again, opinions vary.
I no longer have my GI issue wobbie, but I found another that is even better than the one I used to have.
GEAR REVIEW: THE KIFARU WOOBIE
The standard weight Kifaru Woobie weighs 21 ounces (there is a thicker/heavier double weight version) . It is larger than the old GI issue poncho liner, measuring 66x84 inches. This is long enough to adequately cover a very tall person: I'm 6'5" and my feet stay covered. The ripstop nylon shell is durable, like the original, and you'll find the expected paranoid loops in the corners for securing it as needed. The Kifaru comes in a variety of colors and patterns: I opted for Multicam on one side and Coyote Brown on the other but you can order yours as you like. One useful feature of the Kifaru is the permanently attached stuff sack: all you have to do is stuff it in its sack and go.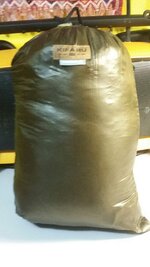 Or, if you're a really tight packer you can get Kifaru's compression sack. When cinched tight in the compression sack the wobble takes up half the room it does in its standard stuff sack.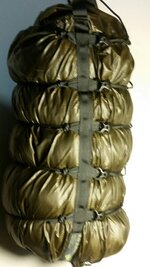 I've used the Kifaru Woobie at home and out in the field. I'm pleased with it. Consider it for your own use as an alternative to a sleeping bag in temperate weather. It's bug out bag friendly.
Woobie – Kifaru Intl. Online Store
Last Edited: