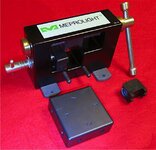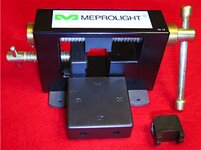 SOLD!
I have for sale one Meprolight Type II Universal Sight Tool.
The "King Kong" of Sight Pushers for Gunsmiths and others who want the best heavy-duty sight pusher. If you've always wanted one of these, but choked on the high price; act now to get one, like-new, for a super savings....
Meprolight Type II Universal Sight Tool
will remove and replace sights on more than 40 types of pistols. Part # ML 40440 comes complete with Delrin Slide Support Block. Weighing just over 7# (10# shipping weight) it measures about 10" wide, 5" tall and 7" front to back. Body is Black Hard Anodized Aluminum, with Hardened Steel Parts. Sells for $680 plus shipping from Brownells. Also included is the optional, and now-discontinued ML 40439 Kimber Adapter, a must for front sights, and for night sights on Kimber pistols, it concentrates USIT's force onto the sights dovetail itself to overcome the tight tolerance of Kimber pistols. (cost was $150.) Tabs on body for optional bench mounting.
I've had it for several years and have not mounted it. It works great on all sights I've tried it on, (makes child's play out of the toughest sights), but am downsizing and have limited use for it. Like-new condition, no damage. White smear in pics is white lithium grease on threaded parts.
SOLD! New, lower price only $350 including USPS Priority Shipping
. Or pick up in Lincoln City. PayPal preferred, or can wait for a MO if you prefer.