Messages

11,671
Reactions

23,699
My Marlin 917V with a BSA Sweet 17 Scope and a
Rocky Mount bipod
Now including a pictinny rail mounted bipod that has all hardware.
I have Maybe 600 rounds down the tube (if that)
As bought new:
917V
BSA
Bipod
Ammo
Butler Creek Scope Caps
---------------
$500+ spent (plus or minus a couple of bonez)
All of that will go with it.
here's the photo part: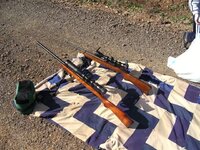 View attachment 204921
Sorry, the lunch box and water jug do not come with it
Price:
$475
$450
$425
$400
$300
Must sell! (comes with all HMR related gear, I believe I still have the box for the gun/scope and all papers for gun/scope.
Feel free to PM me, or email me <broken link removed>
Couple of extra details on the HMR: I did the "pen spring mod" .. look that one up for details, polished internals for a smoother trigger pull and crisper break. No shortcuts taken and does not have a hair trigger.
Last Edited: