Messages

161
Reactions

170
I'm searching for something soft that can be attached directly to a picatinny rail. I'm looking to create a cheek rest/cheek pad on a vertical picatinny rail attached the back of the receiver on an AK pistol. The purpose would be for using the "Cheek Pistol" technique I saw on YouTube where the pistol is held close to the shooter's face, resting against the shooter's cheek. Below is a picture of the AK pistol rear rail and a video link to the "Cheek Pistol" technique. If anyone knows of such a pad, please post a link. Also, I'm hoping this is legal? Thanks for any help! EDIT: This is for a 9mm AK pistol not 7.62x39.
"Cheek Pistol" Technique:
P.S. Sorry if this doesn't make sense, it's tricky to explain.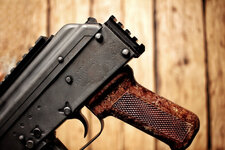 Last Edited: