Welcome Aboard. Glad you found the forum.
This is the best place to hang out on the internet.
Check out the organized clean ups. It's the best way to meet the community and learn where and how to use public lands responsibly.
We are doing non ODFW supported cleanups at public forests - check the North Fork Wolf Creek Road thread in resources.
If you really want to get involved in community action check out Trash No Land.

Information for Target Shooting on Public Lands. "Stewardship Keeps It Open"Here's Tahuya, Volunteers! Cleanup Preserves A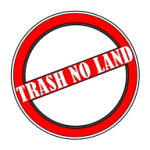 www.trashnoland.org