Ad Type

For Sale
Price

$450
Manufacturer

Other / Not Listed
Caliber

Other / Not Listed
City

TIGARD
State

Oregon
Zip Code

97223
For sale is a GHK Mk18 GBBR airsoft rifle, both Colt and Daniel Defense licensed for extreme realism. This unit takes green gas in the magazines and is NOT an AEG. This gives much greater realism especially in terms of recoil. Subsequently these superb quality GBBR rifles are excellent for training (which is why it was purchased).
The rifle has been run with a few mags, but is essentially new in all respects. Bought from Redwolf about 6 months ago, but have never really found the time to use it. Includes everything in the original box, including a speed loader and a metal flash hider to replace the orange tip, plus an extra $60 GHK magazine. I have extra green gas and BBs I can include, but both are easily purchased from Amazon at any time on the cheap.
Here is the Redwolf product link: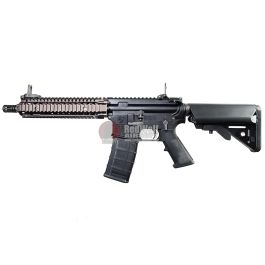 Fully licensed COLTFaithful MK18 Mod 1 replicationLatest GHK GBBR gas systemGood for approx. 400fpsComes with 30rd magazineAble to Take CO2 Magazines

www.redwolfairsoft.com
Here is a detailed review of the rifle from Redwolf:
Located in Tigard. PM or text Scott @ 805-443-1391 with questions or offers. No trades at this time.
I agree to the classified rules and terms of service
Last Edited: