Ad Type

For Sale, For Trade
Price

$700
Manufacturer

Colt
Caliber

45 ACP
City

Gresham
State

Oregon
*** Last price drop ***
$700 cash firm or $760 trade value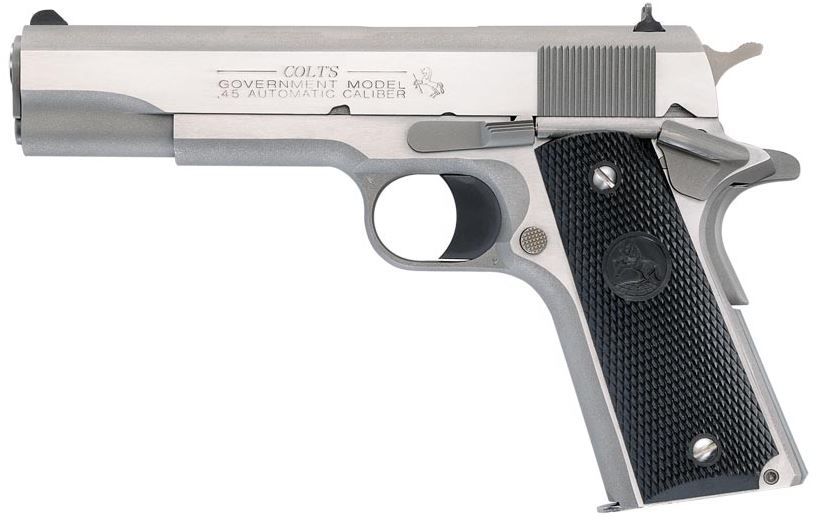 SERIES 80™ FIRING SYSTEM The Colt 1991 Series is a direct descendant of the original Colt M1911. A long trigger, flat mainspring housing and original style recoil spring system remain from t
Trade Interests:
Full size steel or alloy framed 9mm guns with an attachment rail
CZs, HKs, Berettas, Sigs, etc.
Quality AK47
FAL
M1A
Not interested in polymer handguns or ARs.
Not looking for handguns in any caliber except 9mm.
I would prefer to trade up and add cash from my end rather than trade down if possible.
Excellent condition Colt Government 1911 (technically a "1991") Stainless model O1091. Brushed stainless frame, stainless 5" barrel. All of the upgrades you want in a gun you would actually shoot. This isn't a pretty safe queen type of gun but it has been treated like one so far in it's life.
All Wilson Combat parts professionally installed:
Also comes with Magpul 1911 grips - black and a front night sight (brand unknown)
All sharp edges on this gun have been removed professionally and the beavertail has been bobbed all for improved concealment for a very clean look. Slide was cerakoted black by an Oregon based shop. Over $150 worth of parts, not including labor, added to this gun to make it perform the best it possibly can.
This gun will come in it's original blue color case with 2 original stainless 7 round Colt mags.
It will also come with ALL OEM parts that were replaced with the above parts should you decide you want to return any of those parts to stock. All of the OEM parts are in very good to excellent condition.
Just put 100 rounds through it today and it ran like a champ. I cannot PROVE round count but was told that it was 600 rounds when I acquired it so total is now about 700. Based on its condition, I have no reason to be skeptical of this assertion.
Please PM me if interested.
Buyer pays transfer fee. I prefer Money Market Pawn but can drive to other local FFLs within reason.
If you're a Washington resident, I can meet at Safefire in Camas. You're more than welcome to shoot the gun too if you bring cash with you and have your own ammo.
Rules & Terms

I agree to the classified rules and terms of service
Last edited: