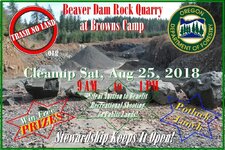 ​
We will be cleaning up
the Browns Camp gravel pit, (Beaver Dam Rock Quarry in The Tillamook State Forest), where a lot of target shooting takes place and needs our stewardship attention.
Win some awesome prizes
in our free raffle! We encourage you to support our vendors who graciously donated to furthering our cause for responsible recreational shooting.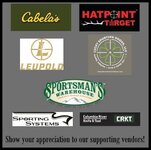 ​
Silent Auction:
We'll have a couple special items available for bidding in our silent auction! Help support Trash No Land in our endeavors to save and improve recreational shooting on public lands!
We meet at 9 AM
, Safety briefing at 9:15, Lunch & prizes at 12 noon. You may stay and play with a group shoot after the event, if shooting is allowed by ODF on that date.
Meeting place:
Google Maps:
https://goo.gl/maps/31GeeAibtdG2
GPS: 45°36'40.4"N 123°21'45.8"W
Potluck Lunch:
Bring something to share! Trash No Land is in for bringing a bunch of hot dogs, buns & condomints, but we'll need something to go with it. Salads, drinks and snacks! Thank you!!!
This event is open to the Public
, Family, Kids 12 & over and your Friends. All are welcome!
Tillamook State Forest will provide
the trash bags and disposal! (Thank you TSF!)
You'll need to bring
Gloves, Boots, Rake, Picker, Magnet, and what you feel helps get it done. If you can, we could use a couple Wheelbarrows or Wagons, Pick-up trucks & trailers that are OK to haul garbage.
Firearm Policy:
Handling or use of a firearm during event hours is not allowed at our events and is not an official part of our events. You may recreate as you wish after the event concludes.
Official Website Event:
8-25-18 Browns Camp Quarry
Stewardship Keeps It Open!​
Last Edited: