Ad Type

For Sale
For Trade
Price

$550
Manufacturer

Other / Not Listed
City

Kent
State

Washington
Zip Code

98042
******SOLD******
Fairly rare Busse - Has seen some use but in fantastic condition (Its a Busse, could not break it if I tried, lol). There is one TINY ding in the blade (You can't even see it in the picture) Knife is shaving sharp and comes with a custom fitted Kydex sheath.
I love the knife but need to thin the heard a bit.
Cruising around the interwebs I have found it (new) to be floating around 800.00
Im asking 550.00 OBO (this includes the sheath) For you fellow firearms folks, Im also interested in ammo trades - 9mm, 45acp, .223, .308
Busse Combat Rare Fat Satin Ash-1
knifehunter.com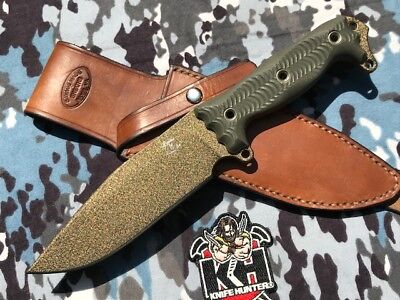 Fat Ash-1 with Bronze Powder Coated INFI steel and multi colored Green and black G10 machined magnum handle scales. For your consideration are two discontinued Busse Combat ASH-1. Both are unused, never carried, never resharpened.
***Note, this version is unmarked but I have confirmation FROM Busse that it is theirs and Im happy to forward you that info. Will provide more pics if requested.
FTF sale/trade near Kent WA please.
Rules & Terms

I agree to the classified rules and terms of service
Last Edited: