Gold Supporter
Silver Supporter
Messages

5,524
Reactions

10,160
For those that may not know, these shirts were developed to be used under body armor.
They are also very comfortable without armor.
CoolMax body.
These particular shirts feature neoprene inserts to protect forearms, elbows and shoulders.
Great for shooting prone.
The inserts are removable.
At $17.00 this is a bargain.
Probably going to be the best buy on a genuine combat shirt this year.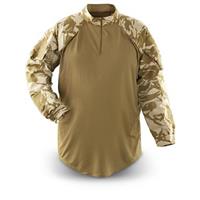 Sportsman's Guide carries top-quality discount Outdoor and Hunting Gear, Guns, Ammo, Fishing Supplies and more - all at great low prices!
Rules & Terms

I agree to the classified rules and terms of service