Ad Type

For Sale
For Trade
Price

$575
Manufacturer

Beretta
Caliber

9mm
City

Corvallis
State

Oregon
Zip Code

97330
I had purchased this before deciding to downsize my handguns. Never fired. Swappable grips (comes with a vertec style one), swappable sights, pic rail, among a lot of other great features that come with the 92x series. Asking $575 cash. Includes 3 17-rd mags, cable lock.
Only other trades I would consider are a wasr-10 (i would cover the remainder asking price), or a mossberg maverick 88 as a partial trade. I might also consider 9mm fmj rounds for partial trade.
Message with any questions. thanks.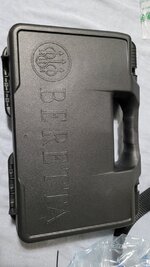 I agree to the classified rules and terms of service