Ad Type

For Sale
Price

$200
City

Hillsboro
State

Oregon
Zip Code

97123
370 Gallon Rain Water Collection and Storage

$200 (sold pending funds)
Design and adapters from Bluebarrel systems. com
Great collection and storage system for Farms, Gardens, water supply backup, or just environmentally conscious water consumption. System will collect rainwater from a roof or downspouts or you can fill manually. 220 Gallons integrated with collection system and spigots. 3 additional barrels provide an additional ~150 Gallons of storage or expansion. Ensure that you have a supply of clean sustainable water in the event of a disaster, power outage, or water contamination incident. Or use to save money and resources on your water bill. If you are a prepper you will want a system like this -> water collection and storage even if there is no power or public water sources are not available.
Add reliability to your City or Well water source for any contingency.
Specs:
55 Gallons per drum
220 Gallon Collection system
150 Gallons of additional Storage
3 water outlets with Hose adapters
Isolation valves
All Barrels come from cleaned and re-used food grade containers
5 years old original owner
Other Extras included:
Tools for maintenance and expansion
Extra PVC pipe and fittings for modifications or repairs
Cinder Blocks for mounting platform
Downspout adapter
For Sale Cash only. No Trades. You pick up at my Location South of Hillsboro, OR.
Please PM with questions or to make arrangements.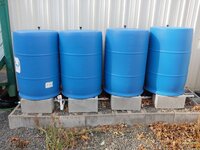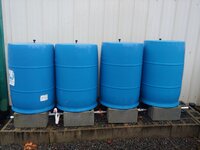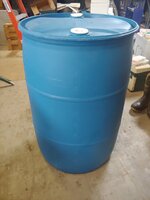 I agree to the classified rules and terms of service
Last Edited: