Welcome to the 2020 NWFA Fall Fundraiser!
We hold these twice yearly events to raise funds necessary to keep Northwest Firearms online. With traditional ad networks such as Google refusing to do business with firearm websites, we rely on support from our members to pay our bills (read more about this here and here). Without your contributions this community wouldn't be here.

$5 or $500, everything helps! You've probably noticed the donation meter on the sidebar -- we'll be updating it daily to reflect our donations so far.

For those of you looking for something a bit more permanent, we're now offering Lifetime Memberships for all Supporting Member levels!
Support NWFA and win!
To show our appreciation, at the end of this fundraiser we're giving away

22 prizes valued at over $4,200

!
Supporting Members receive between one and five entries based on their highest level of support. Now is a great time to upgrade!
We'd like to thank
Let Freedom Ring, Buster Beaver Design, Primary Arms, Highline Firearms, Simply Triggers, Broken Top Solutions, NWFA Member Prosser, NWFA Member Dungannon, and NWFA Member Kruel J
for their generous prize donations. Companies who wish to donate can do so up to the date of the giveaway, so stay tuned for more prizes!
All entries must be received by
October 29th, 2020 no later than 6pm
.
Winners will be drawn and announced the evening of
October 29th, 2020 at 7pm
.
Enter the giveaway at the bottom of this page.
Giveaway Prizes
BERETTA PX4 COMPACT CARRY
Prize Courtesy of NWFA Member Prosser
$950.00 Value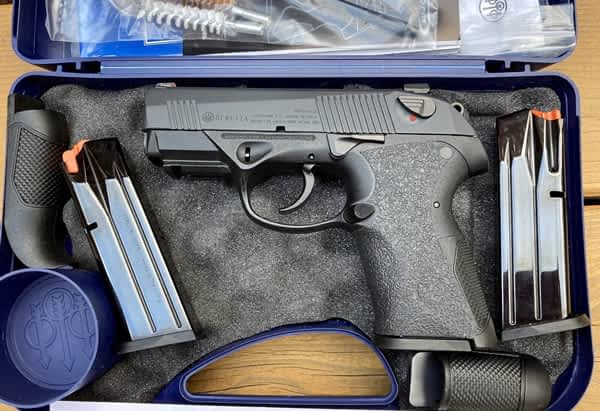 I'm still in shock from this one -- one of our members has generously donated a like-new Beretta PX4 Compact Carry for our giveaway! These guns normally retail for somewhere around $799 new. However, due to being extremely scarce, used examples have been selling on Gun Broker for over $1,000 these past few months! Here's your chance to get one.
In collaboration with Ernest Langdon, The Beretta PX4 Compact Carry was developed with custom features to offer a lightweight hammer fired concealed carry gun.
Ernest has been a been a long proponent of Beretta DA/SA pistols for their accuracy, reliability, and safety. The PX4 Compact was a natural choice as the base of this project because of its rotary barrel design, ammo capacity and smooth trigger pull. Incorporating the stealth levers, night sights, and a lightened trigger pull makes this flat shooting pistol an ideal concealed carry gun.
Though it is completely concealable, the Compact offers a full grip for most shooters. The Compact offers full 16 round capacity (15+1 in 9mm), an accessory rail, low-profile slide stop, new integral and retractable lanyard loop, and a cold hammer forged barrel for ultimate precision.
The Compact also houses the PX4 family's rotating barrel system. This system allows for in-line feeding for unparalleled reliability. The rotating barrel system leads to radial dissipation of recoil energy resulting in a significant reduction in felt recoil and muzzle rise.
3 15-Round Double Stack Magazines
Grey Cerakote Slide
High Visibility Night Sights
Lightweight Hammer
Lightweight Polymer Frame
Picatinny Rail
Reversible Magazine Release
Rotating Barrel
Simple Disassembly
Original Talon Grip
Aftermarket Adhesive Grip (installed)
Read More
MARLIN 1895GBL BIG LOOP LEVER-ACTION GUIDE GUN
Prize Courtesy of Northwest Firearms
$699.99 Value

The last one we gave away was a huge hit, so we're doing it again!
With a big-loop finger lever for easy deployment with gloves and a full-length tubular magazine offering six rounds of .45-70 Gov't. firepower, this rifle is big, fast-acting medicine in any neck of the woods. It features a two-tone brown laminate stock for enhanced weather resistance and distinctive looks. Lightweight and hard-hitting, this lever-action carbine is the rifle of choice for many professional hunting guides.
45-70 Gov't.
6-shot, full-length tubular magazine
Lever action with big-loop finger lever; side ejection; solid-top receiver; deeply blued metal surfaces; hammer block safety
American pistol-grip two tone brown laminate stock; cut checkering; ventilated recoil pad; tough Mar-Shield finish; swivel studs
18.5" barrel with deep-cut Ballard-type rifling (6 grooves)
1:20" twist rate
Adjustable semi-buckhorn folding rear sight, ramp front sight with brass bead and Wide-Scan hood. Solid-top receiver tapped for scope mount.
37" long
13 3/8" length of pull
7 lbs. approximate weight
Model #70456
Read More
COMPLETE AR15 UPPER
Prize Courtesy of Let Freedom Ring
$600.00 Value

As most of you know, anything AR-related is incredibly hard to find right now. These uppers have been flying off the shelves of Let Freedom Ring's Lacey, WA gun shop!
16" 5.56 NATO Chrome-Lined Barrel - 1/7 Twist
12" M-LOK Handguard
M16 Full Auto Bolt Carrier Group
Ambidextrous Charging Handle
A2 Birdcage Muzzle Device
PRIMARY ARMS SLx RED DOT & SWAG PACKAGE
Prize Courtesy of Primary Arms
$256.95 Value

After rigorous field testing, this optic has been given a Silver-tier rating by the National Tactical Officers Association.
The SLx optics are the heart of our lineup. The trusted optics that have built our reputation through the years. Although many SLx optics will be familiar to Primary Arms fans, we are always pushing forward with new generations and adding even more options in response to the demands of our loyal customers.
Approx. 50,000 hour battery life (5+years) at medium setting
Uses one CR2032 battery (included)
Lowest profile emitter on the market
Includes removable picatinny rail mount.
Compatible with standard micro mounts and gives stated co-witness
Crisp 2 MOA red dot
Fully multi-coated anti-reflective lenses
12 Illumination settings for bright days and night vision compatible
Absence of parallax shift past 33 yards
Waterproof to 6ft. with turret caps on
Water resistant with turret caps off
Fog resistant
Bikini lens cover included
In addition to the red dot, the winner will also receive:
Primary Arms Reversible Morale Patch Panel w/3 Pack Primary Arms Patch Set
Primary Arms Tactical Shoulder Bag - Olive Drab Green
Primary Arms Hat
Primary Arms Logo Morale Patch
MAGPUL TERRAIN SHOOTING GLASSES
Prize Courtesy of Highline Firearms
$150.00 Value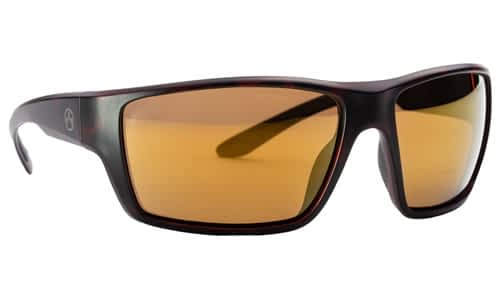 Magpul Terrain eye protection offers extreme impact resistance with a variety of lens options to meet the needs of your active lifestyle. Starting with large strong high impact TR90NZZ thermoplastic frames, coated stainless steel hinge pins stand up where other eyepro fails. The ballistic rated Z87+ MIL-PRF 32432 lenses meet both high impact and safety ratings. These polarized lenses feature an anti-reflective, liquid and scratch resistant coating suitable for even the worst of conditions. The integral rubber nose piece and low profile temples ensure comfort even when worn under gear like earmuffs, headsets or helmets. When you're ready to take your eye-pro seriously, pick up a pair of Magpul Terrain.
Ergonomic Wraparound Design
Rubber Nose Piece and Temple Pads
Ballistic Rated Z87+ MIL-PRF 32432 Bronze/Gold Mirror Polarized Anti-Reflective Liquid and Scratch Resistant Lenses
Low Profile Temple Tips for Comfort with Headgear
Earmuff, Helmet and Headset Compatible
Stainless Steel Hinge Pins
Tortoise High Impact TR90NZZ Thermoplastic Frames
NORTHWEST FIREARMS AR15 LOWER RECEIVER #1
Prize Courtesy of Northwest Firearms
$150 Value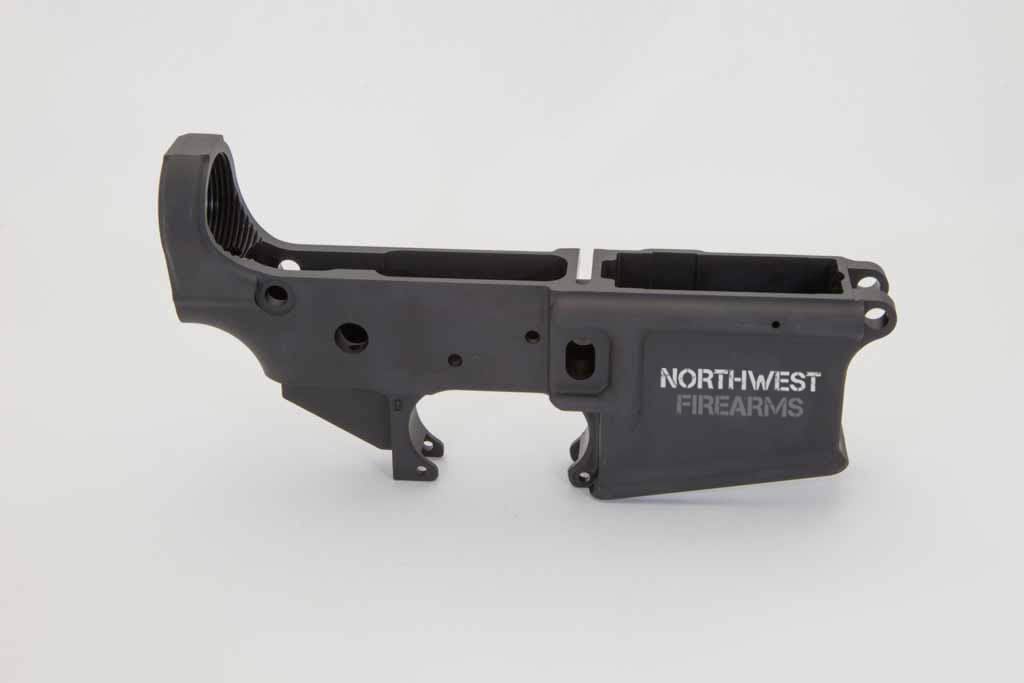 Laser engraved with the Northwest Firearms logo! Made from a high-strength, 7075 T6 aluminum forging for reliable performance and outstanding durability. Mil-Spec, Hard Anodized finish adds extra strength to the receiver walls and delivers superior abrasion-resistance for rugged field use. Precision-machined to ensure drop-in installation of Mil-Spec, aftermarket components.
These are a limited edition item -- when they're gone, they're gone!
NORTHWEST FIREARMS AR15 LOWER RECEIVER #2
Prize Courtesy of Northwest Firearms
$150 Value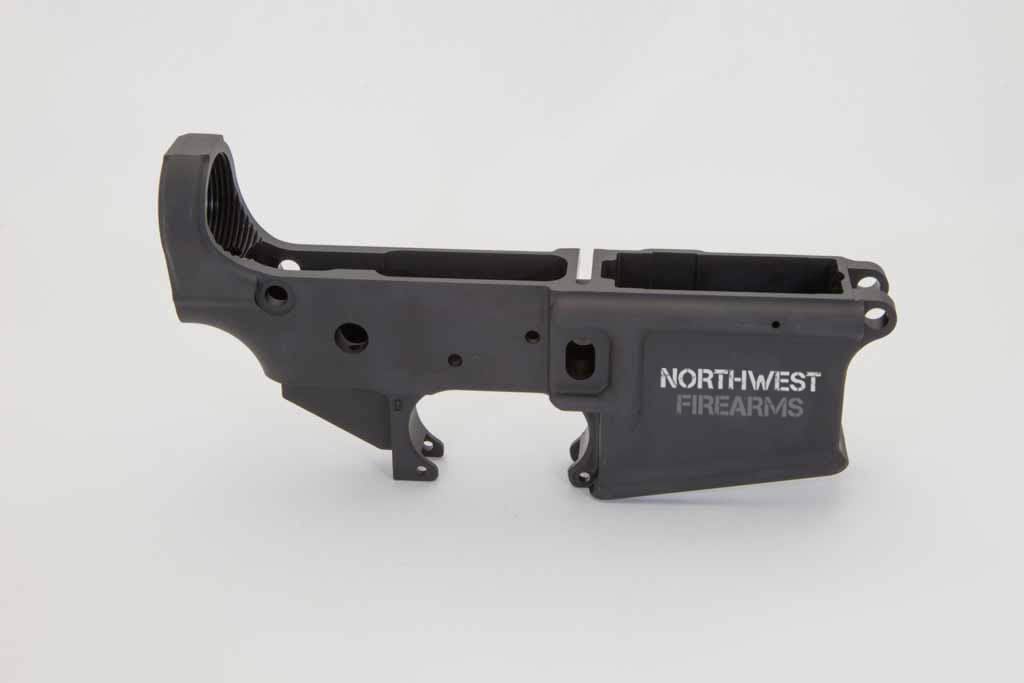 Laser engraved with the Northwest Firearms logo! Made from a high-strength, 7075 T6 aluminum forging for reliable performance and outstanding durability. Mil-Spec, Hard Anodized finish adds extra strength to the receiver walls and delivers superior abrasion-resistance for rugged field use. Precision-machined to ensure drop-in installation of Mil-Spec, aftermarket components.
These are a limited edition item -- when they're gone, they're gone!
RCBS M1000 MECHANICAL SCALE
Prize Courtesy of NWFA Member Dungannon
$139.99 Value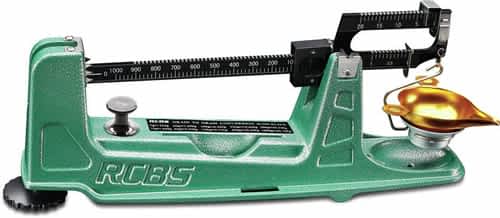 The RCBS M1000 mechanical scale provides right- or left-handed operation and a wealth of big-time features at an affordable price. Featuring a proven two-poise design that lets you weigh up to 1000 grains with +/-0.1-grain accuracy, the M1000 also offers RCBS' magnetic damping system for fast readings, and maintenance-free movement. The tip-proof metal pan makes loading easier, and a rugged die cast metal base even features a grain-to-gram conversion table to aid in calculations and recipe conversions. Limited lifetime warranty.
Read More
VELOCITY AR TRIGGER
Prize Courtesy of Simply Triggers
$139.99 Value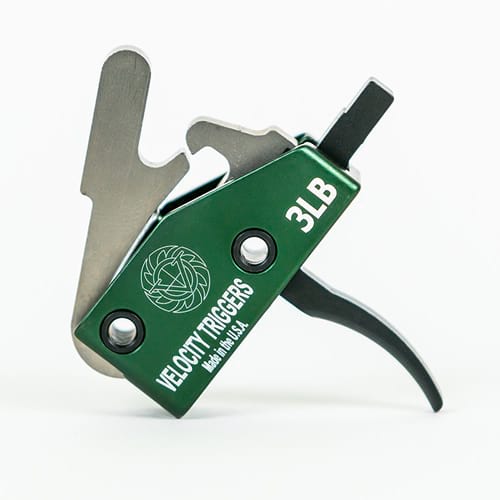 Finally, a high quality AR-15 trigger that makes your AR feel like a bolt action rifle.
The latest innovation of Velocity Triggers is Diamond Like Carbon Coating (DLC) on the trigger which will give your Velocity Trigger the highly effective combination of a low coefficient of friction and high micro-hardness, its also a surface that will not rust and gives your trigger a deep dark black color.
Simply stated, the Diamond Like Carbon Coating (DLC) results in a greater wear resistance over the life of the trigger.
Single Stage Drop In Trigger
Compatible with .22, .223/5.56mm and .308
3lb Pull Weight
Complete Drop-in Assembly
Nice, crisp, clean feel
HANDGUN STIPPLING PACKAGE
Prize Courtesy of Broken Top Solutions
$120.00 Value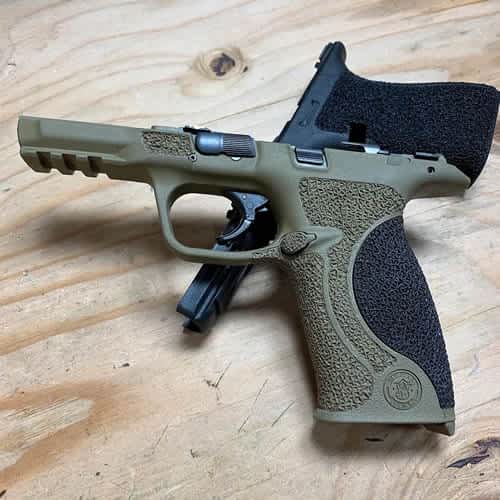 Custom stippling and framework designed to improve grip and control. All our patterns are multidirectional and done by hand, ensuring long-lasting and effective textures that won't rip your hand apart.
Prize package includes optional:
Index point texturing
Knuckle Undercut
Trigger Guard Undercut
Finger groove Removal
Logo Removal
Read More
RCBS UNIFLOW POWDER MEASURE
Prize Courtesy of NWFA Member Dungannon
$104.99 Value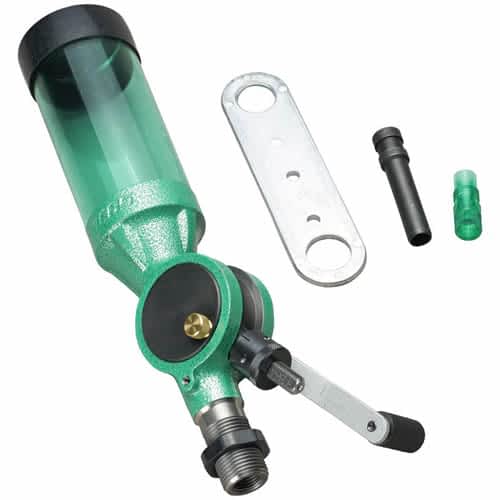 The Uniflow Powder Measure throws consistently accurate charges reload after reload. Powder pours uniformly from the measuring cylinder and into case, thereby eliminating the hazards of overloads caused by clogging when charges are dumped. The unit changes easily from charge to charge without emptying powder hopper.
Numbered measuring screw is used for reference to find a given charge at a later date
The measuring cylinder has precision ground surfaces and slides into the honed main casting for a precision fit
Standard 7/8-inch–14 threads
Stand plate is drilled for easy mounting on a bench or under a reloading die lock ring
Includes two drop tubes for 22 caliber and up
Capable of accurately measuring all three major powder types—ball, cylindrical and flake
Cuts cylindrical powders so a precise charge can be obtained
Read More
$100 CERAKOTE GIFT CERTIFICATE
Prize Courtesy of Buster Beaver Design
$100 Value
Buster Beaver has donated FIVE of these certificates -- five lucky members will win!
Buster Beaver Design excels in performance coating application at our Cerekote-certified facility. Our professionally applied coatings provide many advantages which can include prolonging the life, ease of use, and aesthetics. Cerakote is a Polymer-Ceramic Composite coating coating which enhances a number of physical performance properties including abrasion/wear resistance, corrosion resistance, chemical resistance, impact strength, and hardness.
Read More
LARUE TACTICAL MBT-2S TRIGGER
Prize Courtesy of Northwest Firearms
$80 Value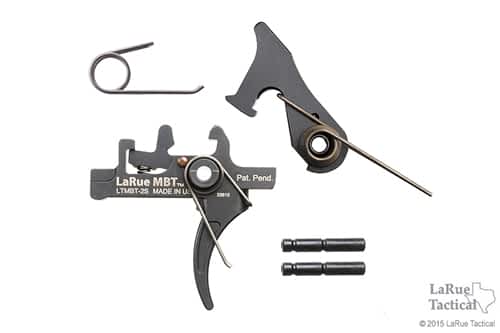 In a world of instantly M.I.M.'d rifle and pistol components, we threw on the brakes, slowed to a walk, and built 2-stage triggers out of solid S7 tool steel plates. Meticulous triggers built by our staff toolmakers ... without a stopwatch in sight.
No question, we're particular about accuracy. Everyone knows that one of the smartest improvements an AR-owner can do to their rifle is a precision trigger upgrade. Everyone also knows that LaRue Tactical has a track-record of doing things right. The LaRue MBT-2S was purposefully designed and manufactured to render the greatest benefits from our legendary line of accurate rifles. The MBT-2S can also replace the stock trigger on any mil-spec AR lower receiver.
Sparing no expense, all major components are precision-machined from S7 Tool Steel. The result of this extra effort is a glass-smooth, hyper-consistent trigger that will satisfy even the most scrupulous competition shooter, but also be overly rugged for the battlefield. The MBT-2S breaks crisply at 4.5 lbs (2.5 lb first stage, 2 lb second stage) and has a smooth and positive reset. Each trigger comes with an additional "heavy" trigger spring that increases the pull weight to 6 lbs.
Read More
BUG-A-SALT PEST ERADICATION GUN
Prize Courtesy of Highline Firearms
$60.00 Value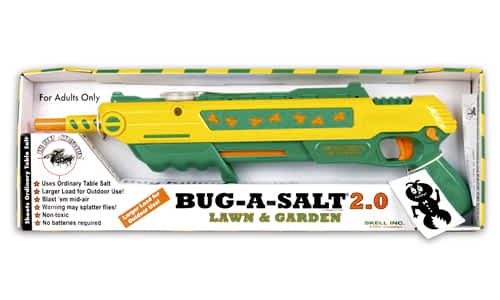 This larger load Bug-A-Salt Lawn & Garden pest gun is a great way to handle a stinkbug safari. It uses ordinary table salt to kill flies and bugs in your lawn and garden. Each shot uses ordinary table salt to lay waste to a variety of pests, including flies, mosquitoes, roaches, cabbage worms, aphids, stinkbugs, slugs and more. One load is good for 50 shots and a salt viewing window shows load level. This unit features a cocking pump slide handle and requires no batteries. Simply release the auto safety and a pop-up sight indicates it's ready to fire. Because this Bug-A-Salt Lawn & Garden version has the power to splatter its targets, it is recommended for outdoor use only.
MEDICAL SUPPLIES
Prize Courtesy of NWFA Member Dungannon
$54.00 Value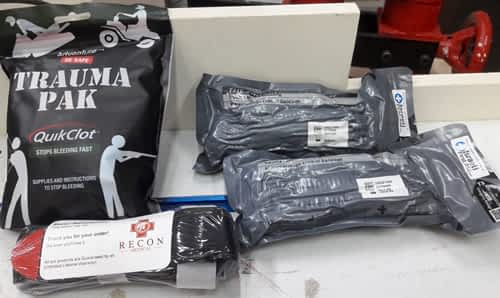 A smart addition to your range bag!
Adventure Medical Kits Trauma Pack with QuikClot - When it comes to emergencies, professionals know excess equipment only gets in the way. Act fast to provide immediate trauma care with this Trauma Pak which contains key supplies to control bleeding at the scene until medical professionals arrive. This essentials-only trauma pack contains Adventure® Medical Kit's QuikClot, a hemostatic dressing that stops bleeding three times faster by accelerating your body's natural clotting process with zeolite. In addition to the hemostatic dressing, this pack includes a combine pad, triangular bandage, and gauze dressings to help control the bleeding and duct tape to hold it all in place. Packed in a tough, waterproof pouch that easily fits into a BDU pocket or glove box, the Trauma Pak is compact, easy-to-use addition to your medical kit, first responder kit, or everyday carry bag that could help you save a life.
Recon Medical Tourniquet Gen 4 - Aircraft Grade Aluminum Windlass and Buckle Core. Strong and weatherproof. Will not fail in extreme heat or freezing temperatures. Beveled windlass clip to secure windlass in patient transport. Prevents velcro delamination under extreme tension at largest diameter for large patients. Patented assisted occlusion strap (AOS) designed with finger hole assists achieving positive tension while implementing device in wet, muddy, and bloody environments. US Made DuPontⓇ KevlarⓇ stitching perpendicular to strap end improves maintaining tourniquet tension during maximum pressure and largest strap diameter. Double layer stitching provides extra strength to secure inner strap.
6" Israeli Emergency Bandage (2) - The Israeli Emergency Bandage is an innovative, combat proven first-aid device for the staunching of blood flow from traumatic hemorrhage wounds in pre-hospital emergency situations. This all-in-one device consolidates multiple first-aid devices such as a primary dressing, pressure applicator, secondary dressing, and a foolproof closure apparatus to secure the bandage in place. This internationally patented and FDA approved bandage is the ideal solution for emergency treatment when every second counts. The Emergency Bandage is designed for quick and easy application by professional and non-professional caregivers to provide effective, multi-functional treatment. The Emergency Bandage's sterile, non-adherent pad applies pressure to any site, can be easily wrapped and secured, and has an additional application, similar to a tourniquet, to further constrict blood-flow. The product is so easy to use that even an injured person can self-apply the bandage with one hand.
3 MAGPUL PMAG 30 AR/M4 GEN 2 MAGAZINES
Prize Courtesy of NWFA Member Kruel J
$32 Value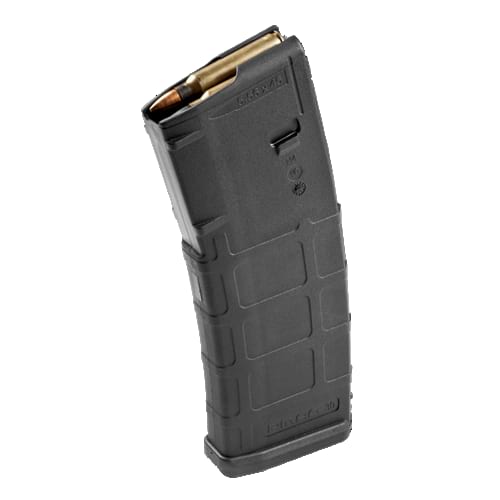 The PMAG 30 AR/M4 GEN M2 MOE is a 30-round polymer magazine for AR15/M4 compatible weapons chambered in 5.56x45 NATO/.223 Remington that offers a cost-competitive upgrade from the aluminum USGI magazine.
It features impact-resistant polymer construction, an easy-to-disassemble design with a flared floorplate for positive magazine extraction, a resilient stainless steel spring for corrosion resistance, and an anti-tilt, self-lubricating follower for increased reliability.
Magpul Original Equipment (MOE) is a line of firearm accessories designed to provide a high-quality, economical alternative to standard weapon parts. The MOE line distinguishes itself with a simplified feature set, but maintains Magpul engineering and material quality.
BAOFENG UV-5R EX DUAL-BAND HAM RADIO
Prize Courtesy of Northwest Firearms
$30 Value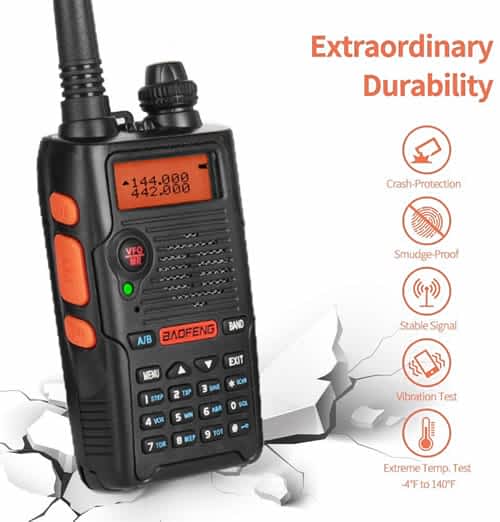 The latest version of the popular Baofeng UV-5R ham radio.
128 Memories Channel; Frequency Range: VHF: 136-174 MHz (RX/TX), UHF: 400-520 MHz (RX/TX), Commercial FM Radio: 65-108 MHz (Reception Only). High/Low Power Model (5W, 1W), Wide/Narrow Band Selectable; 50 CTCSS / 105 DCS; VOX Mode for Hands-Free.
9-level Automatic Squelch System; Dual-Band Display, Dual Frequency Display Dual-Standby; Busy Channel Lock-Out; Frequency Reverse; TOT; Channel Scan; Repeater Tail Tone Elimination; DTMF; FCC Certification; Loud and Clear Audio on RX and TX
High strength and dustproof shell, portable and easy to carry on-the-go. Tri-color backlit LCD display, embedded LED Torch and emergency alarm, which is perfect for outdoor adventure day and night. A great choice for hunting, camping, hiking, fishing, etc.
Supported CHIRP; Compatible with the programming cable and earpiece of Baofeng UV-5R/888S/UV-5RTP
Read More
FENIX E12 130-LUMEN FLASHLIGHT
Prize Courtesy of Northwest Firearms
$27 Value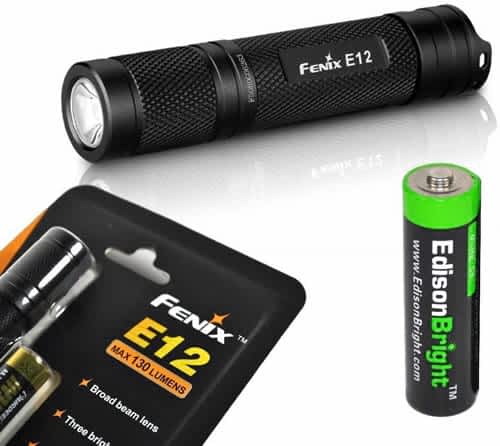 For those who want a more traditional light, but simply don't have the space for a larger model, the E12 is the perfect hybrid of size and functionality. With almost 90 meters of throw, a max of 130 lumens and the popular tailcap control method, the E12 gives you all the punch you need, while only utilizing a single AA battery.
Uses Cree XP-E2 LED with a lifespan of 50000 hours
130 lumen high (1 hour) 50 lumen medium (6 hr 30 min) and 8 lumen low (40 hours)
Uses one AA (Ni-MH, Alkaline) battery
Digitally regulated output – maintains constant brightness
Reverse polarity protection guards against improper battery installation
Tail tap switch for on/off and output selection
Made of durable aircraft-grade aluminum
Premium Type III hard-anodized anti-abrasive finish
High-efficiency total reflection lens
Read More